Bank lockers, a safe and trusted storage solution, allow customers to securely store valuable possessions such as documents and jewelry. In return for this service, a convenience fee is charged. UCO Bank offers a range of locker choices, with fees spanning from INR 1,000 to INR 20,000. The charges are determined based on the size and type of locker selected.
Secure and Affordable Locker Options at UCO Bank: When it comes to keeping your valuable items like documents and jewelry safe, UCO Bank provides a convenient solution through their lockers. These lockers offer a secure space for a fee, and UCO Bank has a range of options to suit your needs.
Different Locker Types and Costs:
UCO Bank categorizes lockers based on their size and type. The charges for these lockers vary depending on their volume, size, type, and location. There's an annual rental fee, and a 18% GST is added on top.
Charges for Using Lockers: With UCO Bank, you get 12 free visits to your locker every year. After that, each additional visit costs INR 105.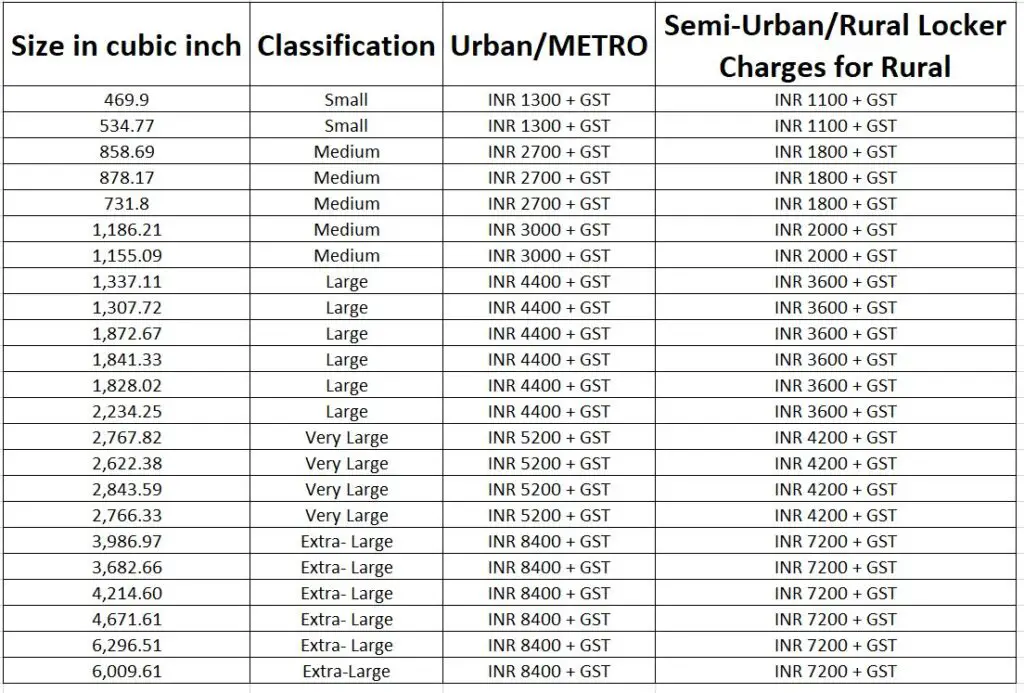 Special Benefits for Bank Staff :
If you're an employee of the bank, you won't be charged for visiting your locker. The costs for small lockers are INR 650 in rural/semi-urban areas and INR 750 in urban/metro areas for bank staff.
Late Payment Penalties : If you miss paying the fees on time, there are penalties. For small and medium lockers, it's INR 65 per quarter or part thereof.
Advantages of UCO Bank Lockers
UCO Bank lockers offer several benefits:
Your valuables are securely stored and accessible at most branches.
Advanced security measures like dual-key access, 24/7 surveillance, and modern technology are in place.
You can choose from different locker sizes for your convenience.
The bank ensures dedicated security monitoring.
Your valuables are safeguarded by the bank, except for uncontrollable events like fires or earthquakes.
Eligibility and How to Get a Locker : Existing UCO Bank customers, including savings account holders and fixed deposit customers, are eligible for lockers. Here's how you can get one:
Submit an application to your branch manager with your KYC documents.
Understand and agree to the terms in an agreement.
Provide the necessary security or guarantees.
Pay the applicable charges, which range from INR 1000 to INR 10,000 per year.
Rules to Follow :
Using a UCO Bank locker comes with some rules:
Submit an application and receive a receipt for the waiting period.
Understand and accept the terms in the agreement.
Pay the charges in advance for annual rent and maintenance.
Be aware of possible late payment penalties, which vary by bank and location.
Access your locker only during specific visits, with extra charges for additional visits.
Keep in mind that the bank isn't responsible for losses due to natural disasters.
Locker Nomination : You can provide nominee information when opening your account. You can add multiple nominees, and they would manage the locker contents if needed. To give a nominee access, you'll need to apply in writing, provide a death certificate as proof, and submit KYC documentation.
Conclusion :
UCO Bank's locker facilities provide a secure and convenient way to protect your valuables. With various benefits, transparent fees, and easy access, you can store your belongings with peace of mind. If you're considering using UCO Bank's lockers, make sure you understand the charges, benefits, and responsibilities associated with the service.